Transfer Google Workspace to a partner (local reseller)
Transferring your Google Workspace billing will not affect the use of the service.
A transfer token is a 16-digit alphanumeric code that can be generated from the Google Workspace admin console. With this token, you can transfer your Google Workspace billing to a reseller to pay your Google Workspace billing through that chosen reseller. The transfer token will not transfer your Google Workspace data and it will not affect the use of the service. The process of transferring Google Workspace billing to a reseller usually takes about 6 hours to complete. During the transition, you can still use all the Google services as usual.
How to obtain this "Transfer Token"? Get yours in 3 minutes.
Step 1
Go to this link, and log in with the Super Admin's account of your organization and check the box to agree to the terms and conditions.
Step 2
Enter TS Cloud's public ID [C04184l1d].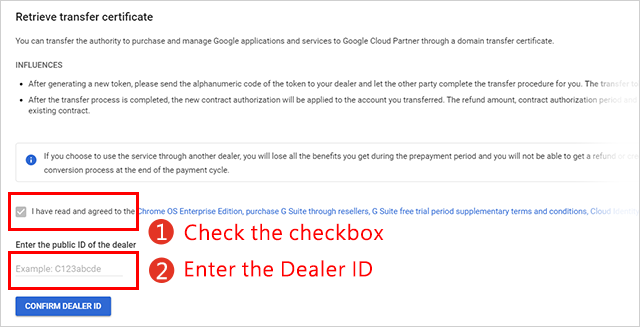 Step 3
Click to generate the Transfer Token.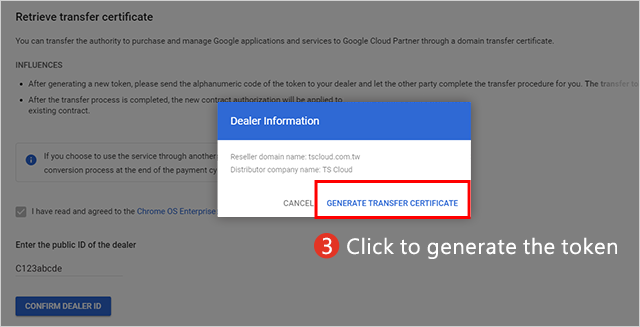 Step 4
Click Copy Code to copy the alphanumeric code.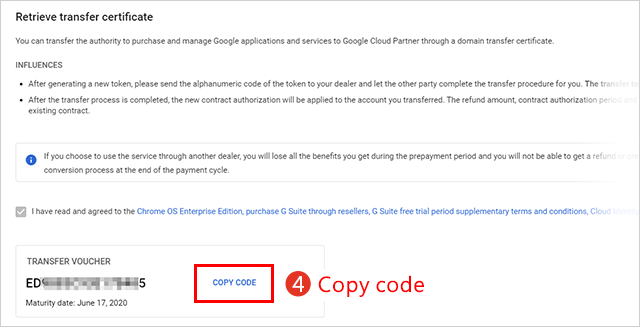 ※Please note that the transfer token expires 30 days after being generated. Please give the transfer token to your reseller in order to transfer your account successfully.
Get started on your free trial!
If you are interested in using
Google Workspace
Google Workspace evaluation before making a purchase decision