Risks of Free Gmail for Business Use & Why Custom Domains Are Safer
Free Gmail for business operations comes with many risks. In the article, we will go through potential dangers and strategies for risk mitigation with the help of Google Workspace. Proactive steps will be listed to show you exactly how you can maintain a responsible and safe working environment, enforce essential security measures, and uphold corporate IT security measures. It's time for your company to take decision actions to ensure the security of your working environment in today's dynamic business environment.
Understanding The Dangers of Free Email for Businesses

Today, you may be part of a company that uses free email services like @gmail.com or @yahoo.com for daily operations. While the convenience and cost savings are apartments, it's natural to wonder how safe is it and what the risks of using it are if it is free.
Here at TS Cloud, we strongly urge businesses to utilize paid Google Workspace serviceBy the end of this article, we will have outlined the risks associated with using free Gmail for corporate operations and the benefits of transforming your business's security environment with Google Workspace.
Risks of Free Email for Businesses
Risk 1: Unreliability of Free Email
Considering the perspective of those free email users for business purposes, it's not unreasonable to think, "Is this company taking security and compliance lightly? By not using an email associated with a custom domain,considerable business opportunities may be lost and the following risks may be prominent in your usage of free email for business.
Risk 2: IT Security Compliance Regulation
With free email accounts such as Gmail, managers cannot effectively control and monitor the usage of each employee's account. Therefore, the tracking of unauthorized access is unmanageable, and data leaks may occur if devices are lost too.This may significantly harm customers, partners, and the business itself.Inadequate IT security measures may also lead to compliance regulation as a company.
Furthermore,free email accounts are the intellectual property of the owners of the email, and information within them cannot be transferred by force.By involving personally owned accounts with business uses, businesses will always be open to compliance issues regarding data transfers or the right to the data within them. To avoid such concerns, companies should ensure that employees are given corporate-owned resources and prohibit the use of personal email accounts for work.
Risk 3: High Chances of Data Loss
If a free email holder faces any of the following problems, retrieving data from the email will be difficult
User cannot remember password and did not set any backup email or phone number
User accidentally or maliciously deleted the free email and did not export at data
*Although retrieval of data is possible in some cases, Google does not provide any support for free Gmail users.
Risk 4: Lowered Security Levels
Among free email providers, Gmail is often ranked to be the safest, however depending on how it is used, there may be scenarios where the security level of the account is not sustainable for the organization.
Security settings were changed without managerial permission which may increase the risk of unauthorized access to an account.
Without adequate security settings and features, previous employees of a business may continue to enter the account undetected.
Risk 5: Lack of Technical Support
As free emails are unpaid, there may be times when technical support from your email providers is inaccessible.
In the case of free Gmail users, assistance can only be reached from the Gmail Help Center, or the forum communities online. This often takes time and there is a possibility that the issue may not be resolved. Because of these issues, it is essential to know about these factors and situations in advance.
Risk 6: Commonly Classified as Spam
Business users may have encountered this issue: when sending emails from a free email address with promising business opportunities, the recipient's email security settings can sometimes flag them as spam. This often occurs due to the increased risk of phishing emails. When an email lands in the spam folder, the chances of the recipient noticing it drop significantly, potentially leading to a missed business opportunity.
Risk 7: Low Storage Capacity
While free email accounts like Yahoo and AOL boast generous storage capacities, widely used services such as Gmail and Outlook offer a more limited 15GB to 20GB of free storage. While this might appear sufficient, this capacity includes email, cloud files, and in Gmail's case, photos as well. Consequently, businesses with substantial photo and video storage requirements may swiftly exhaust this space.
Once the storage limit is reached, sending and receiving new emails will not be possible.
Risk 8: Data Offloading Times
As highlighted previously, the data residing in free email accounts requires relocation to an alternative account. Regrettably, this task frequently consumes time and occasionally proves to be a cumbersome process.
Throughout this transfer process, users frequently store files or emails locally, transfer them, and subsequently re-upload them to a designated corporate storage account like Google Drive in Google Workspace. This process can become quite laborious due to transfer speeds, device compatibility concerns, and the need to maintain data integrity. Additionally, the likelihood of dealing with substantial file sizes only adds to the complexity.
How Google Workspace Reduces Risks
Here is a summary of how the risks are prevalent in free Gmail accounts compared to how Google Workspace helps to combat those risks. As a paid service, Google Workspace is equipped with business-driven tools and functions that are completely capable of conducting safe business activities
➤

Reliable Use of Custom Domains

Google Workspace allows you to run your owned custom domain name in your email address, such as "@tscloud.co.my." By noticing the company name of official business emails, customers and partners alike will be able to feel safer responding to a corporate email address.
➤

IT Security Compliance Violations Can Be Avoided

With Google Workspace, you as an admin who issues accounts with a custom domain, can manage all accounts. This is possible because each account will be owned by your company. In contrast with the use of free email accounts, business operations can be conducted with peace and ease of mind.
➤

Effective Data Protection

With Google Workspace, it is notable thatnon-admin users cannot delete accounts or take any other administrative actions. Additionally, Google Workspace Admin Console provides an array of capabilities such as
Administrators have the ability to retrieve deleted emails 25 days before permanent deletion
Administrators have the ability to reset the passwords of any account
Deleted accounts can be restored by administrators within a certain period.
Google Vault enables administrators to retain data for the long term
Unlike the use of free emails where an individual is the administrator, Google Workspace allows the separation of the two to ensure the upholding of internal data policies and regulations among account holders.
➤

Strengthening Security Levels

In Google Workspace, additional security measures can be taken. For companies that demand a high level of security, Google Workspace is essential for several reasons.
Enable Two-Factor Authentication for all account logins to confirm identity of user.
Set up alerts for suspicious access to notify administrators. This allows for immediate response to protection and prevention protocols.
Restrict access to limited devices and approved applications only.
Suspend accounts to prevent any access without permanently deleting the account
➤

Receive Personalised Technical Support

If you have chosen TS Cloud, an official Google Workspace reseller, as your dedicated Google Workplace provider, you can reach out to them for inquiries and support. Alternatively, you can contact Google Support directly too. Reach TS Cloud through phone and email where within 90 seconds, we will respond to help resolve any questions or issues you may have. As your support team, dedicated guidance can also be provided through web conferences on Google Meet for any implementation-related inquiries.
➤

Low Risk of Being Classified as Spam

Using a custom domain for your email greatly reduces the likelihood of your emails being marked as spam. However, it is not impossible for it to happen. There are times where emails custom domains may fall into a recipients spam box, however this is usually due to a configuration issues. By properly setting up SPF records through your DNS TXT records, you can easily address this problem.
➤

Large Storage Capacity (30GB – 5TB)

With Google Workspace, online storage space can range from 30GB to 5TB
Usage Plan
Capacity Limit
(Per User)

Free Account
15GB
Business
Starter
30GB(pool)
Standard
2TB(pool)
Plus
5TB(pool)
Enterprise
Essentials
1TB(pool)
Standard
5TB(pool)
(Expandable when needed)
Plus
5TB(pool)
(Expandable when needed)
➤

Easily Control All Account Settings in Admin Console

In Google Workspace, administrators can conduct bulk changes to the owned of files and email accounts. This grealy reduced the effort required for data transfer.

Furthermore, if an owner's account is deleted before the change in account ownership has happened, file are deleted too. However, within 20 days of the account deletion, a super administrator can restore them. This can be seen as a safeguarding of sensitive confidential data that ensures that no data is accessed without authorization.
Google Workspace Pricing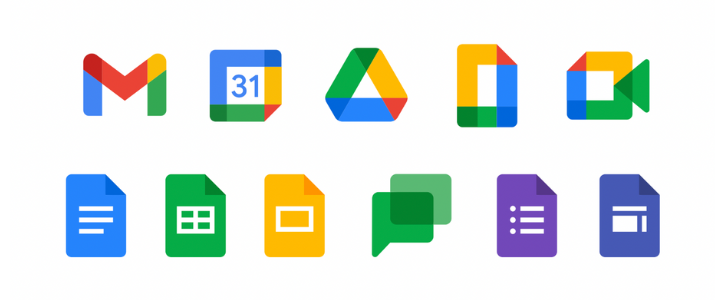 Google Workspace stands as a cloud-based office suite offered by Google, primarily designed for professional and corporate use. It encompasses an array of tools, including Gmail, Drive, Calendar, Meet, and various others. Each of these tools offers distinct capabilities that enable organizations to efficiently manage their data in the cloud and facilitate smooth collaborative work. This integrated solution aligns perfectly with contemporary work practices, where remote work has become increasingly prevalent.
Google Workspace provides a range of editions, each tailored to accommodate businesses of different sizes. When it comes to plans that incorporate Gmail, you have five primary choices. The cost is contingent upon the number of users and the online storage capacity. Furthermore, the tools and features accessible in each plan may differ. To ensure you select the most suitable plan, we advise thoroughly examining our comprehensive "Pricing Plan Details" before making your final decision.
*Purchasing an annual contract with TS Cloud requires a minimum of 5 or more accounts
Prices are subject to change based on the USD exchange rate; Prices shown above are based on the exchange rate on 2/11/2023
Free Gmail Data Migration to Google Workspace
Interested in transitioning from free Gmail to Gmail on Google Workspace? Regrettably, you can't perform a direct upgrade of your Gmail account. Nevertheless, there's a viable option to "migrate" your data from free Gmail to Google Workspace. When you decide to make the move to Google Workspace, reach out to our TS Cloud team for expert guidance and support with the data migration process.
Further Information on Google Workspace
This article has explored the risks associated with utilizing free email services for business operations and emphasized the advantages of opting for a paid office suite provider like Google Workspace to effectively counter these risks. To ensure the most basic security measures and compliance with corporate standards, we strongly urge you to abandon the use of free email services for the safety of both your organization and your clients. Take the initiative and give Google Workspace a go today!
Get started on your free trial!
If you are interested in using
Google Workspace